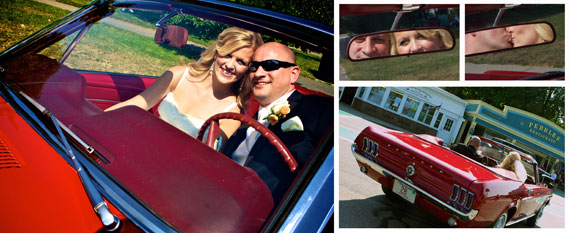 When it comes to wedding day transportation, the type of vehicle is only the beginning. While fairytale visions of riding off into the sunset seem simple, all the choices can be confusing. Focusing on basics can make your selection easier.
How many people do you need to provide transportation for; just the bride and groom or the entire wedding party, a few family members or the entire guest list? The answers to these questions will force some choices to be discarded and open the door for others. When will transportation be necessary; to the ceremony, from the ceremony, as a grand departure at the end? It's important to have a good understanding of your needs so you can establish a realistic budget.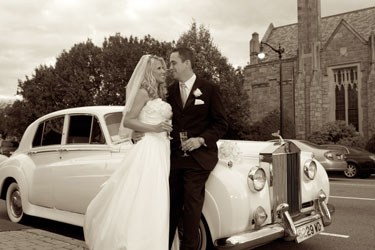 The type of vehicle you choose can help bolster the style and theme of the wedding. The array of options is quite amazing. Traditional limousines, SUV limousines, antique cars, trolleys, taxis, horse-drawn carriages, golf carts, motorcycles, boats… I've seen some wonderfully creative ideas. Crisp white, silver grey, elegant black, or the American flag… color choices are broader than ever before. The classic, long lines of a sedan limousine to the even longer lines of a super-stretch Hummer can make accommodating large wedding parties easy. And the use of trolleys, minivans, and buses can make moving the entire wedding a breeze.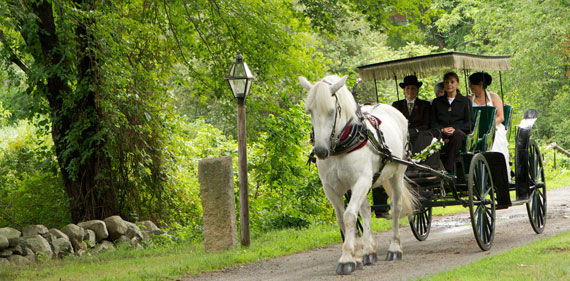 Beyond being eye candy, your transportation choice is an important "oasis" for the bridal couple. In many weddings, the couple's first moments alone together as husband and wife are in the limo after the ceremony. Savoring these moments of privacy and solitude is important because it's a long, hectic day. You will be surprised at how little time you actually spend together. All those guests to talk with, the friends you haven't seen in years, and the family members that fall out of the sky.
The beautiful lines of an antique car can add a wonderful touch. The classic elegance of these cars is an obvious fit with the bride & groom in their wedding finery. But there are a few issues that you should keep in mind when making this choice. Antique cars don't drive as fast as modern cars. If you are traveling longer distances, determining the proper amount of travel time is essential. If the car only goes 35 mph, you need to know. You don't want to get to church or the reception late.
Air-conditioning is not available in some vehicles (like antique cars or a horse-drawn carriage). In a hot, August wedding this might be an issue for you. The wind through your hair in a convertible may seem like a nice idea, but your hairdo might disagree. Keeping issues like these in mind will help to seamlessly incorporate your choices.
Clear communication with your transportation company is very important. (Yes, communication is a recurring theme!) It is perfectly acceptable and expected for you to ask questions. This will help give you peace of mind and ensure that everyone is on the same page.
How will the chauffeur be dressed? You want a professional, personable chauffeur, but you also want the chauffeur to be appropriately attired. If the groom is wearing a dress suit, a chauffeur in tails and a top hat may be a little over the top.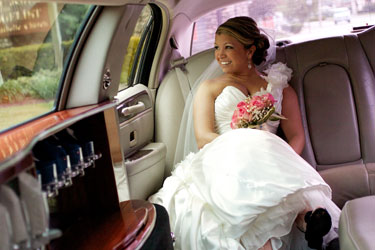 What is the company's policy on alcohol? Being able to arrange for your own champagne and glasses could be a huge improvement over their standard, complimentary sparkling wine. What is the overtime charge, and is it available as an option? Some companies have difficulties in over-booking, not leaving enough time between jobs to allow for overtime.  In my experience, most weddings run a little later than expected.  Add 5 minutes, here and there in your schedule for "flex time".
You should provide the vendor with information about the schedule & travel directions for relevant locations when making your arraignments. Be sure to consider driving conditions (seasonal weather, annual parades or events), and road construction on your route.
Concerns over the tipping procedures are common. Some companies include the tip in their prices. Keep an eye on this to avoid double tipping. If the tip is separate, use your own discretion in evaluating the performance and contribution of the chauffeur. There are no hard rules, but here are a few suggestions. The typical tip amount is 10-15% of the total bill.  If more than one chauffeur is involved, divide that amount between them.  All tips should be prepared ahead of time in separate envelopes to prevent confusion, although it may be necessary to adjust the amount depending upon the quality of service. As one might expect, cash is the preferred method. Tips are usually given at the end of services rendered. There are times however when one may consider using a tip to "grease the wheels of progress" during the day.
They say, "getting there is half the fun". Have fun with how you get there, but plan ahead to make sure you get there!