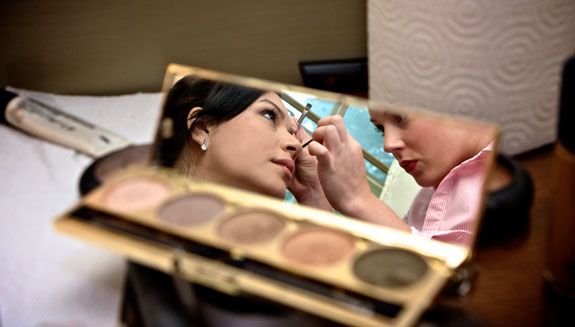 Your wedding is your day to shine. You want that inner glow to come out, in person and through the camera. Concerns about skin care, nail care, hair care, and fitness can all become overwhelming. Many people tend to result to the "makeover" as a tool for personal improvement. The popularity of reality TV shows featuring radical makeovers has increased the desire of couples to push the boundaries.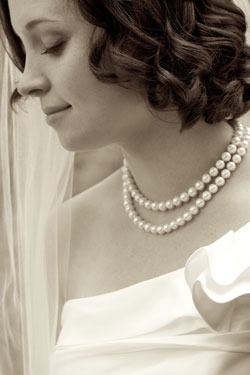 Everyone wants to look good at his or her wedding, but don't let yourself be made over entirely. Well-meaning friends, beauticians and makeup artists can get carried way. You want to recognize yourself in the mirror, in the photos and most importantly, in the eyes of your sweetheart. Getting married is, by itself, a big change in self-perception. As a photographer, I notice the changes that people sometimes choose to make.
Last minute hair color changes or shaving off a 10 year-old mustache are definitely big changes. Two days before your wedding may not be the best time to experiment. As for your skin, attempting a new beauty regime immediately before the wedding is not advised. Facials, masks, face creams, and waxing may be helpful in the long run, but they can cause breakouts and skin irritations in their initial use. Planning ahead for these occurrences can prevent the nightmares. By starting a routine months prior to the wedding, most people's skin will have a chance to improve and to settle down. And don't worry if the monster zit shows up on the big day; most photographers can retouch!
Despite their claims, beauty products cannot compare to a simple, commonsense understanding of your own skin. While fighting your genetic predisposition is not entirely futile, radical changes can be extremely expensive, time consuming, and downright embarrassing. If you feel that things are out of control, consulting a dermatologist, make-up artist or esthetician may be helpful in finding the correct beauty regime for you. Think carefully and try things well in advance of your day. A little common sense can go a long way.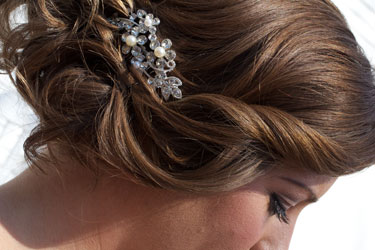 A good night's sleep is priceless. Beyond your wedding being a very long day for you, it's a very hectic and stressful day. The body really shows when you haven't had enough sleep. Taking a little extra time for yourself will have many positive effects. Your posture will improved. Your skin and especially, your eyes will be dramatically improved, as well as your mood.
Finding other avenues for stress-reduction will have many positive effects. I know, easier said than done. The night before the wedding may seem like the perfect time to catch up with old friends and family who have just arrived into town, but it should wait. And all the last minute details that just didn't get finished, that crazy push to the finish; you will have to delegate those tasks to someone else.  You need your sleep.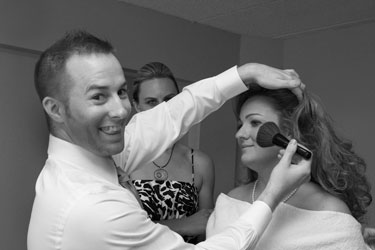 The effects of sun damage, both natural and artificial, are well know. Having good skin color can become an obsession for some people. Over-tanning, sunburns, and tan lines can be the results. Even those who are especially careful can make mistakes. The other option, self-tanning lotions, can be safer. However, the tendency towards staining and uneven application is another factor. Try it in advance, be careful and don't overdo it!
Of course, everyone knows they should drink more water. Not soda, not coffee, not alcohol…yeah, that's a bummer! But it will make a difference. My single, biggest tip is to reduce hand-to-face contact. My husband calls it "bit picking". Everyone does it; everyone knows they shouldn't. All you need to do is nothing! Simply wash your face, and leave it alone.
Look great.  Look knock-down, drag-out gorgeous!  But, look like yourself.