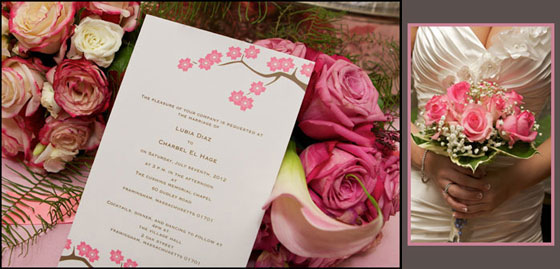 Most people have experienced the power of flowers. There's a huge emotional connection. It's not just women; everyone has a connection to flowers. These fragile blooms are a romantic symbol between couples starting with their courtship. They represent thoughtfulness and love. They have an ability to set the mood and to transform any surroundings into a beautiful setting with color, texture and fragrance. The natural elegance and sophistication that flowers bring to a wedding is an important part of the overall style and personality of your wedding.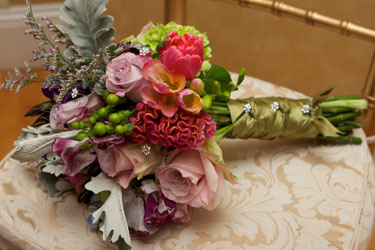 Whether casual or elegant, the range of possibilities is quite endless. The amazing array colors and hues can match any color scheme or even establish a theme. Creating wonderful textures and contrasting forms with foliage and berries can add a unique and dramatic touch. Find special locations to use flowers throughout the day. From a crowning headpiece on the bride or flower girl to the boutonnieres of the groom or groomsmen, flowers can become important fashion accessories. Issues of color, size, and even weight should be addressed. Having a good sense of scale is helpful in matching your flowers to your personal stature.
Your flowers should never visually overwhelm their surroundings. Whether as a bouquet held in front of the bride's gown or as pedestal urns flanking the couple during the ceremony, the role of the flowers is to support the show, not steal it.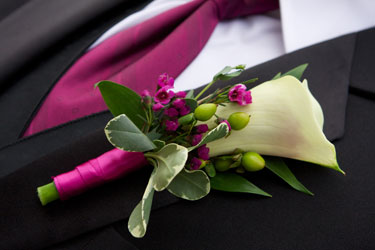 Beyond their traditional uses, flowers can make an appearance in all types of places; as centerpieces at the reception, as wedding cake decorations, on the guest book table, or even in the restroom. There are many situations that could be improved with a small splash of flowers.
For holiday weddings, the traditional motifs can be followed. Playful combinations of seasonal fruits and berries with blossoming branches and foliage can make for memorable wedding decorations. Evening weddings provided an excellent opportunity to use candles in conjunction with floral arrangements. Candlelight always adds a dramatic and romantic effect to any table display. The possibility of using the arrangement as a giveaway adds another benefit.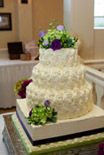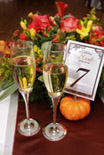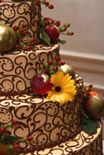 There are several concerns that should be addressed when ordering and handling flowers. Ask your florist about wilting, discoloration, proper storage, and other factors dealing with longevity. You want your flowers to look their best as long as possible. An easy answer to keeping the bouquet fresh the longest is to use a bouquet holder or vase with water. This provides an attractive way to store the bouquet when it is not needed.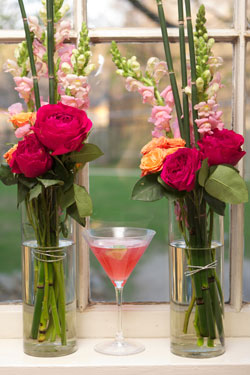 Another simple, yet overlooked question: Are they poisonous? A wedding with small children or pets should consider this. What about allergies? Allergies to flowers seem more common these days. The entire Lily family does a number on me; but worrying about all the guests and all their possible allergies can be a little absurd. So, concentrate on yourself and everyone who will be wearing or holding the flowers, since they are the ones who will be the most affected. Some people also have strong reactions to flower scents. For example, gardenias have a very pungent aroma. These scents can bring back memories of childhood, specific people, and distant locations.
These days, truly exotic and unusual flowers are available year round. Seasonal issues are not as problematic as they were in the past. Using silk flowers will remove the seasonal issue and will lower the overall cost. The longevity of artificial flowers has its obvious benefits, but will it meet your aesthetic needs?
As with most other wedding topics, there are many choices for the flowers. So let your imagination run wild. Open a dialogue with your florist, and discover the possibilities.