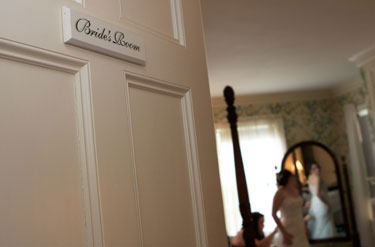 Whether or not to have videography at your wedding can be both a simple choice and a difficult one. For movie buffs, it's an obvious 'yes'. Having your wedding story in moving pictures, hearing the conversations and music, and reliving the moments are essential to you. Others may feel that the intrusion that videography can bring is too overwhelming for them.
Remembering an embarrassing toast, the "best wishes" of your second cousin's now ex-boyfriend, and the crash of a dropped tray of glasses may not necessary elevate your memories of the day. But there can be many special moments that will be captured. Like all of your wedding choices, there are many factors to consider. What is the overall style of the videographer? What will be the final product? How will the videographer approach the wedding day? Will there be a harsh spot light, any auxiliary lighting, a large camera crew? The videographer's style will determine not only the look of the final video, but also your experience as the subject.
While my personal fantasy would be having Ken Burns (award-winning PBS filmmaker) to be my videographer, not everyone would be able to afford such an undertaking or even appreciate the nuances such an approach would bring. His style mixes actual footage of the events with panning stills of photographs and documents, interviews, and scenics of the locations. By covering all these facets of the event, a more visually exciting story is created. There are many videographers out there who utilize a similar approach. It definitely creates a story that surpasses the typical.
When thinking about other objects for the video, the possibilities can almost seem endless. Photographs and love letters from your courtship, your baby photos, and any other pre-wedding items that come to mind can be included. Wedding announcements, save-the-dates, invitations, ceremony programs, sheet music, guest registries, thank you notes, the marriage license, photographs… All can be used by your videographer to create a more varied and interesting video. Some couples even include their honeymoon details and photographs.
When it's all said and done, what will be the final product? DVD and USB flash drives are the preferred formats at the moment. Asking questions about longevity is important here. What's your level of knowledge for digital technologies? What are the additional charges for making copies, if you are unable to do it yourself? Will you have access to the uncut footage? How much input can you have in the final edit? Some videographers may not be comfortable with your directing and editing abilities; others may encourage it. Finding the right fit is important.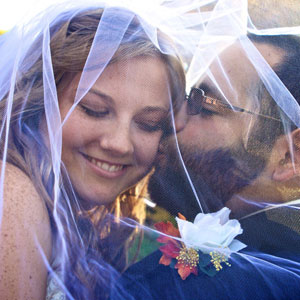 As a photographer, my experiences with videographers are usually focused on their behavior at the wedding. I have seen the full range from wonderfully invisible to outrageously obnoxious. There nothing quite like getting body-checked and pushed by a videographer during the first dance. Why this should happen is beyond me?  Apparently, the entire dance floor is not enough for the both of us. With a little communication, awkward situations can be avoided. This is especially true for the ceremony. Some churches have restrictive policies that can make finding a spot a little more difficult. Since this is the most pious time of the day, it's essential to keep the peace and still get the shots.
We've all been there: Microphone in the face, bright lights in your eyes, and the inevitable "Say something to the bride and groom!" Out comes your horrific, inappropriate toast captured for all eternity. Interviews can be difficult and dreaded by the guests and by the couple as well. If they are not your style, then skip them!
In my experience, a videographer who takes an unobtrusive, documentary approach is the way to go. I've seen too many who take over the day, set up shots, and act like they are the center of attention instead of the bridal couple, indulging their fantasy of being a "Movie Director" instead of documenting your day. Look at their work and references and ask lots of questions. A little patience and effort on your part will go a long way towards keeping your day in control and getting a great video!